excerpt from

Top off the Spring
Originally published April 7, 2004 The Daily Oakland Press

Hats are the frosting on a fresh new outfit

By BETHANY BROADWELL
Special to The Daily Oakland Press

"Wearing a hat is enjoyable to outside events on warm, sunny days, traveling on a cruise or just sightseeing and sitting by the pool."

Carol Robinson of Bloomfield Hills is someone who owns about 10 hats, loves to wear them and agrees they make a statement.

"Hats finish my outfit and make me feel glamorous and feminine," she says.

Feeling special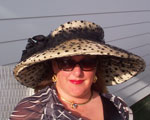 Her favorite hat is a dramatic chapeau, named "Derby Day," made from sinemay and open weave toyo by Gena Conti Millinery in Wyandotte. With its large brim and shallow crown, it is draped in black velvet with dotted tulle and a black silk rose that sits on the side with a matching dotted tulle bow.

Robinson fondly recalls wearing "Derby Day" to the annual Grand Hotel jazz weekend on Mackinac Island. She, however, does not limit her hat wearing to formal settings.

Whether she wears one to work or for a dinner date with her husband, Robinson says, "Every time I wear a hat, I am complimented.

"Not only complimented," she adds, "but stopped and asked where I bought my hat."

In fact, she just purchased a new spring chapeau from Gena Conti Millinery. It is red parisisal straw covered in red-glazed chiffon with handmade trim of matching fabric, horsehair on the edge and red rhea tail feathers.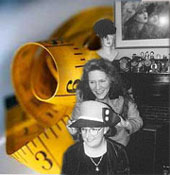 "In these days of self-serve, fast-serve, no-serve, I find my clientele are extremely pleased to be pampered with a hand-sewn, custom-made hat that fits from our workrooms," Conti says.

She not only has her Wyandotte shop location, but Conti also books millinery showings and speaking engagements, private parties, high teas and fund-raising events in Oakland County and around the state.

"Our custom business has always been very popular, but it has skyrocketed over these last five years," she adds.

Living sculpture
Sculpting material and draping are Conti's favorite elements of design.

"We, ourselves, are sculpture - viewed from all sides," she explains. "When I sculpt a hat, I spin it 'round, as if it were on a potter's wheel, because it must flatter its wearer from all angles."

Cynthia Hencsie of Troy is the owner of Design Network, Inc., the current president of the Michigan Chapter of the American Society of Interior Designers and someone who treats hats like "finishing touches" in a room. They coordinate, highlight and add complexity, in an effort to draw interest.

Estimating she owns about 100 hats, Hencsie describes her favorite as a wide, off-white hat Conti made for her a few years ago with vintage black veiling and a silk flower.

"It enabled me to get a glimpse of how women must have felt in the turn of the century with the extravagant hats and outfits they wore," Hencsie says. "It makes one stand taller, walk more gracefully. Because you feel good, smiles are easy."

Men who wear hats like the attention, too

.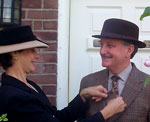 William Volz of Bloomfield Township says his favorite memory of wearing a hat was walking in midtown Manhattan, wearing a brown leather jacket and a brown bowler by Conti and "getting compliment after compliment from men who looked like it had been a long time since they had last complimented anyone about anything."
He owns about 20 hats, and the next one he is considering for his spring 2004 collection is another bowler, maybe in a rich loden green.
Gena Conti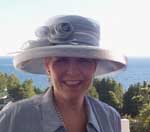 As someone who has studied with lifelong milliners and traveled throughout Europe designing and creating hats for clients, Conti summed up why now is the season to give these accessories a try.
"We bloom under hats in springtime colors and fabrics," she says. "Spring is a fine time for a new hat!"