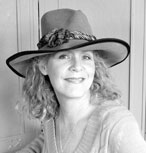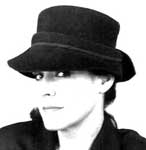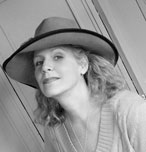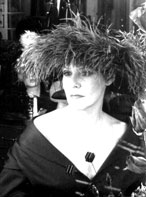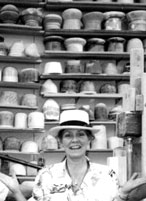 "Everyday IS special when a woman wears a hat." Watch her put one on, then walk 20 paces behind her ---- Watch every head turn!

A woman feels DIFFERENT when she wears a hat. Hats capture a romance and confidence that transform her.

Gena Conti's hats are made from her own designs and patterns. They are made one at a time by hand, not by factory automated, high production stamping. "It's that difference that makes the difference." Her hats are attractive, versatile, lightweight, comfortable and durable; ready to travel or stay at home ... and they FIT.

Gena imports unique trim, fabrics and materials for her original designs from France, China, Germany, Switzerland, Italy, the Czech Republic, the Philippines and England. She travels frequently to New York, Los Angeles and Europe scouring the Fashion Districts for the latest materials. Hunting for the extraordinary plays a major role in her entire hat making process.

The art of custom millinery is not lost. Gena's passion keeps it vital and exciting. Her love for millinery and its history has led her to extensive research and travel across the United States and Europe to factories, manufacturers, couture houses, museums, libraries, fashion institutes and universities and independant studies of classic techniques with life-long milliners.

Gena Conti millinery has been spotlighted at trunk showings at Nordstrom, private showings, and atop stylish heads and celebrities about the country. She has been profiled in The Detroit Free Press, The Detroit News, Hour Detroit, Columbus Dispatch, Bowling Green Daily News, Metro Detroit Bride, Philadelphia Inquirer, the Daily Herald, Washington Post, St. Augustine Record local and regional suburban newspapers, magazines, on radio and television programs and commercials.

Her millinery has been featured at Mindscape Adornments, Gallery 890, the Scarab Club,
the Biddle Gallery, Detroit Gallery of Contemporary Crafts, the Jill Spanbauer Galleries and the Kentucky Derby Museum.

Gena is available for speaking engagements, Millinery showings and fundraising events. She lives and works in Wyandotte, Michigan, continually creating unique Made to Order Millinery for women and men who deserve attention...

Custom millinery creations are designed by contacting her Wyandotte, Michigan studio.
(734) 284-3417.

"... but it's really not about me is it? ... It's about YOU... Go have fun. Look at the HATS!"