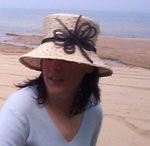 WHAT HATS WILL YOU BE WEARING THIS SPRING and SUMMER?
Oooo! Spring scents sneaking up on you ... Mmmm, smell them? Warm breezes creeping in too. We can't wait to get to have a stroll on the beach ... even if it's in a sweater (lightweight and pastel, of course). We want to feel new and young and freshly bloomed, no matter what our age ... SPRING is like that ... teasing us with promise.
Promise YOURSELF a perfectly fitted hat.
A hat that flatters you and protects you or launches you into a new season of FUN!
PINK! says the fashion magazines! Pink is THE color ... unless you read a different magazine ... then it's GREEN, darling! Grab a little green. GREEN is all the rage. Green is the scene... unless, of course, you don't look good in green.
No matter what clothing color you zero in on this spring and summer, Our Natural color knotted sisals are PERFECT with your entire wardrobe.
We'd like to suggest a few classic styles from our Spring and Summer Collection.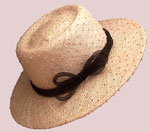 We vote for knotted sisal --(All hats shown above) all lined with capenet, of course - our clients
are worth the extra step to
guarantee their summer hat
retains it's shape longer!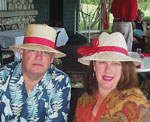 He'll love one too!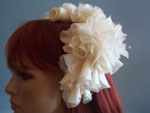 For the bride, designing her headpiece or hat is as important as choosing her dress.

It is the most beautiful headpiece she will ever wear and an opportunity to wrap up in personal fantasy rather than the dictates of fashion.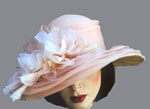 I will custom design your bridal headpiece or chapeau as individual as you are.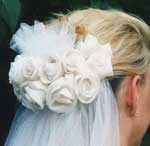 Custom designing for the mother of the bride or groom, bridesmaids and flower girls are a part of the magic I'll help you weave for the wedding day.
WHAT HAT ARE YOU WEARING FOR THE HOLIDAYS???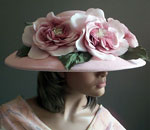 Passover
Easter
Mother's Day
The Kentucky Derby
the Preakness
Pittsburgh Parks & Conservancy
Royal Ascot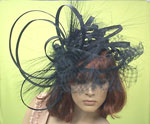 Don't let another year go by saying, "I WISH I WOULD HAVE WORN A HAT!"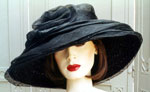 Parade of hats on display at Churchill Downs...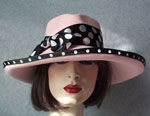 "The second most entertaining parade on the first Saturday in May, next to the Kentucky Derby "post parade", is the parade of hats on display at Churchill Downs.

From the fantastic to the sublime, there are no rules or limits.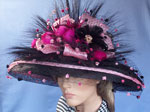 Derby Museum Hat Contest Winner 2004

In the Clubhouse and Paddock women of grace and taste sport classy, fashionable styles.

In the infield, the headwear
has a zanier character. Does a Derby hat improve one's luck at picking winners? Some say,
"yes, it certainly helps."
visit
.kentuckyderby.com

ASCOT, ANYONE??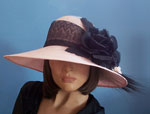 Ascot Racecourse, founded in 1711 is the world's most famous racecourse. The very best Flat racing takes place at Ascot between March and October, with the main highlight undoubtedly being the internationally renowned Royal Ascot in June. The five-day meeting is a perfect opportunity to experience the unique atmosphere of Royal Ascot, particularly for those who may not have been able to attend before.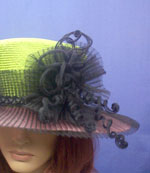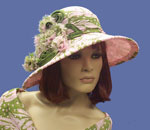 Join Us
for our Annual
Cocktail Party
during the
Wyandotte Street Art Fair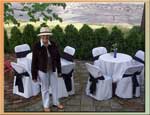 Friday, July 15th
6 – 9 PM
Special, Client Only Soiree
(for you and your guests) in the Salon Garden.

Watch your e-mail for your Private Invitation.

Not currently on our client e-mailing list??? Would you like to be included? Let Gena know.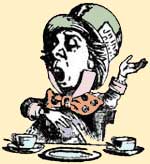 GENA IS AVAILABLE FOR SPEAKING ENGAGEMENTS

A one hour presentation (with Q & A) includes a short synopsis of hat history, traditional hat making methods (with examples) and demonstrates how wearing the right hat can enhance your presence. Attention getting? You bet! Gena will discuss hat etiquette, hat phobias, and the most flattering hat styles for the six basic face shapes-that includes yours!
Gena is also available for Private Parties, High Teas, and Fund-Raising Events. Please contact the studio at
734-284-3417 or by email: gena@genaconti.com with questions or to schedule a speaking or show date.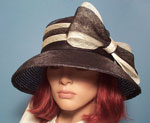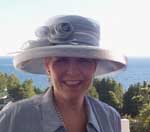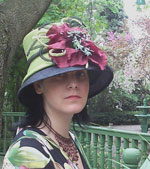 MOTHER MOM MERE MAMA
Don't forget that special day! MAY 8th!

A new hat for Mom, grandmother, your Mother-in-law, sister, aunt, best friend ... and you, the Mom too.

Give a gift that keeps giving... A NEW HAT that complements you and brings you the compliments!
MOMS LOVE IT!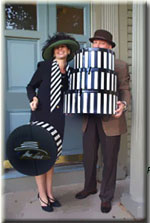 Gift Certificates are available.
Give her something she really wants ... not just another thing to dust ...

We'll arrange a beautiful Gift Card to send with your compliments.
Whether your Mother is next door or 1,000 miles away, Gena Conti Millinery will help you SPOIL HER with a custom hat just for her! CALL US in the Salon
734-284-3417 to arrange the details or just click here

Need a new outfit to wear with your new hat??
Visit our favorite Michigan stores for unique styling:
VanDam's
111 East Main St.
Northville, Michigan.
Call 248-449-4282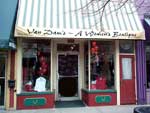 Always a caring, pleasant staff helping you select absolutely fabulous clothing. Watch for our Fall schedule...Gena Conti Victorian Hat Trunk Showing is now in the planning stages.
We'll let you know WHEN the date is confirmed.
DROP US A LINE if we don't currently have your email address.

STORE YOUR WINTER HAT AWAY with CARE !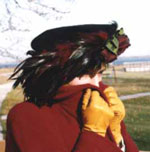 Your hat will thank you next fall when you meet again.

BRUSH it gently with a lint brush or a clean toothbrush works well
STUFF the crown gently with tissue.
REST it atop an old lampshade that has been cut down enough to support the tissued crown. This will prevent the brim from supporting the weight of your hat. A similar shape can be made from poster board

Capping the CALENDAR ......

APRIL
24 -
May 4
STUDIO CLOSED Buying Trip
MAY
7
130th Run for the Roses!
Kentucky Derby
7
Pittsburgh Parks & Conservancy Hat Luncheon
8

MOTHER'S DAY
Don't forget her GIFT CERTIFICATE!

21

The 129th Preakness Race
Baltimore, MD

31
Memorial Day
JUNE
14 - 18
Royal Ascot
Berkshire, UK
25

Private Party
High Tea
Concours d'Elegance 2005
19
Father's Day
Don't forget his GIFT CERTIFICATE!
JULY
4
INDEPENDENCE DAY

Studio CLOSED
July 1 - 5
15
Client Cocktail Party 6-9 PM
at the Gena Conti Millinery Salon - Wyandotte
16
STUDIO CLOSED July 16 - July 19
AUG
..
5
Gena Conti Millinery Showing

Concours d'Elegance

Ladies Day Luncheon Event

University's Meadow Brook Hall in Rochester, Michigan.

And ... always a few more surprises under my HAT! .
Watch for Updates
SEPT
2 - 5
Grand Hotel
Mackinaw Island
JAZZ FESTIVAL

Studio & Salon Closed
16 - 19
VICTORIAN FESTIVAL
Northville, MI

Take a trip back in time ...



Hot Hot Hot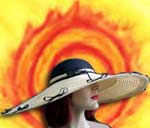 THE SUN CAN DAMAGE
BE WELL
Your sunscreen is not enough!
GET YOURSELF A GOOD HAT