AUTUMN - WINTER

ORANGE you glad Autumn scents (and colors)
are in the air?

FALL into Something Special!





Sweetest Day
OCTOBER 20th
Get yourself a sultry hat to wear for YOUR sweetie ... better yet,
have them get one
FOR YOU
OR
Get one for each other!



CUSTOM BRIDAL
Hats and Headpieces

SILK, SATIN, MOIRE, BEADS, SHINY STONES, ROMANTIC FLOWERS, FEATHERS, VEILING AND TULLE. Every girl loves a little shimmer.



Gift Certificates are always available and ALWAYS a smart choice!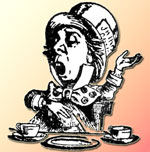 GENA IS AVAILABLE FOR SPEAKING ENGAGEMENTS,

Private Parties, High Teas, Millinery Fashion Showings and Fund-Raising Events.
Please contact the studio at 734-284-3417
or by e-mail: gena@genaconti.com
to schedule a speaking
and or show date.
Race Wear & Wdding FASCINATORS!
Headpieces
Headbands & Hair Accessories too





SKIP THE NEW DRESS! !
Our designs will make what's old look NEW again!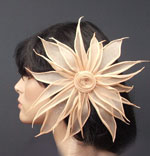 Black Tie Events, Weddings, Cocktail Parties, & the Races--- or JUST BECAUSE it's FUN!
Custom services available of course

PROM-IS-ME

Collection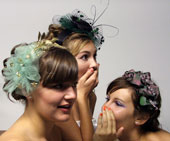 They're not JUST FOR PROM anymore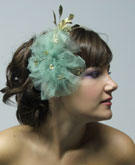 ... And a COCKTAIL HAT is a MUST for holiday fashion!

"Girls become women and women, girls
Under hats made of ribbons, fur pieces and pearls."
- G.Conti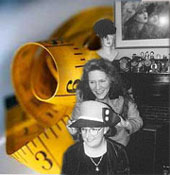 "I can't find it at Neiman's. I can't find it at Saks. I can't find it at Nordstrom's or Lord and Taylor. I CAN'T FIND IT AYWHERE!"
Of course you can't find a custom hat just anywhere. Although many retail stores employ helpful staff, they are unable to order another ready to wear hat style in a custom COLOR or SIZE to fit you, BECAUSE in a "one-size fits most" mentality ANOTHER COLOR OR SIZE IS NOT AVAILABLE.
Off the rack? Or custom made for you?
If you're not "most" or "all," CUSTOM IS FOR YOU.

WHAT HAPPENS AT A PRIVATE FITTING APPOINTMENT
I will take a series of six custom measurements, a photo of your lovely face and we'll chat a bit over a cup of tea.
Your hat should be fun, lightweight, comfortable and non-restrictive ... always glamorous! A custom hat will spoil you forever!! Please visit our CUSTOM PAGE
We'll make it easy for you. Get all the Details Here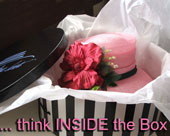 Surprise someone special with a private fitting appointment and custom made hat from our Millinery Studio.
Your unique, personal gift is one that will continue giving.

Does your special someone live in another state? Another country?
Do Not Fret! We will be happy to set up a PRIVATE FITTING ROOM in our Virtual Salon.

Shipping service is available anywhere the mail, UPS, Fed-Ex, etc. delivers. Our custom hat clients live all over the globe, including Tokyo, Singapore, UK, France, Australia, New Zealand, South America, Canada, South Africa.... and all points across the USA ......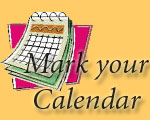 OCT

20

31

Sweetest Day

HALLOWEEN
NOV

6

11


22


25

ELECTION DAY!

Veteran's Day


Thanksgiving

St Catherine's Day
WEAR YOUR BEST MAN-CATCHING HAT!


DEC

9


16


25

31

1st Day of Chanukah

Last Day of Chanukah

Christmas

New Year's Eve


JAN

2013

1


New Year's Day


15
National
HAT DAY
(no kidding)


18






17 - Feb 1
North American International Auto Show 2013. Charity Preview


SALON & workrooms
CLOSED


FEB


14


18


VALENTINES DAY

President's Day
MARCH
17

26


31
St Patrick's Day

1st Day of Passover

Easter Sunday
APRIL
2


20
Last Day of Passover

AARDA Derby Hat Showing with Gena Conti Millinery (info follows)
MAY
4


12

27

KENTUCKY DERBY

Mother's Day

Memorial Day

Not currently on our client e-mailing list??? Would you like to be included?
Let Gena Know by registering for our "email alerts" found on our home page (top right).