Kentucky Derby Hats Millinery Custom made Fascinators and headpieces for Women. Hats for Men Ready to Wear Hats
Designing and creating custom & couture millinery (and hats for Men) since 1992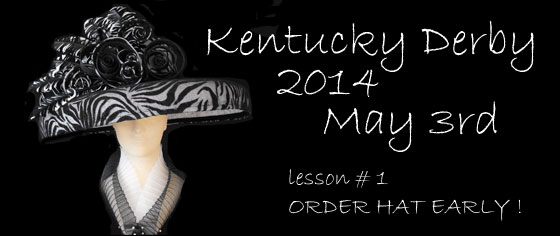 Kentucky Derby Hats Millinery Custom made hats Fascinators and headpieces for Women. Men s hats Ready to Wear Hats
Local Salon Visits By Appointment Only -- Internet SALON Visits 24/7
**On-Line showrooms on this site: ALWAYS OPEN **

READY for Spring and RACE SEASON - HAT it YOUR WAY




Fascinators, Hats, Headpieces Cocktail Hats and Hair Ornaments
Made to Order


Voted 2012 Best Women's Accessories
DETROIT'S A-LIST

Voted 2013 Best Hats in Metro Detroit
Click on Detroit -Vote 4 the Best
If you experience ANY difficulty reaching us via this site, or by email, please CALL US DIRECT
(The Internet is terrific -- But the TELEPHONE is SO MUCH FASTER!)
734-284-3417
Kentucky Derby nt Stakes, Saratoga, Del Mar, Royal Ascot, Melbourne Cspecial occasion hats, custom, bridal, funeral nators, headpieces, hair ornaments, black hats, straw,cocktail hats, ladies hats, women's women's hats, men's hats,millinery,spring summer, Easter hats, High Holidays, bar Mitzvah. bat mitzvah hats, grandmother's hats, mother of the bride hat, Detroit MI Preaknessup Dubai Race Season hats, Polo matches, Concours d' Elegance, Suite Dreams Project, Couture Millinery,Formal Hats, Central Park, Pitsburgh, Belle Isle Conservancy Hat events.
©2000-2014 Gena Conti, Inc. Wyandotte, MI (734)-284-3417
---
Fall 2014 Fashion Color Forecast
PANTONE
---
MARCH 21
PRIVATE TRUNK SHOWING
20% of Trunk Show Sales
to benefit
BANBURY CROSS THERAPUTIC EQUESTRIAN CENTER
Oxford, MI
Click photo for detail

---
APRIL 15
1st Day Passover
APRIL 20
Easter Sunday
---
MAY 3rd


140 Kentucky Derby

PLAN YOUR HAT, FASCINATO, or HEADPIECE EARLY



COUNTDOWN



NOW is the time to think about your ensembles!

---
MAY 3rd
Derby in the "D"
formerly "shoot for the Cure"
Fundraising Event
GENA CONTI MILLINERY
will donate
10% of Hat Sales purchased for the EVENT

call us direct
Enter the Best Hat Contest wearing your fabulous hat from our workrooms

---

Vintage Mannequins For Sale