Kentucky Derby Hats Millinery Custom made Fascinators and headpieces for Women. Hats for Men Ready to Wear Hats
Designing and creating custom & couture millinery (and hats for Men) since 1992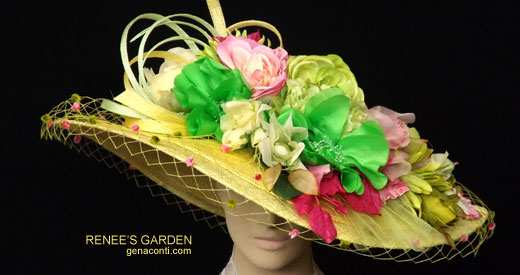 MAY 7, 2016 KENTUCKY DERBY ~ ~ ~ ORDER YOUR HAT EARLY!






Although WE SAY: "No matter the 'trend' --- Wear what enhances YOU, darling...."
Even so, you may like to view the Official PANTONE 2016 Spring Color Forecast



Kentucky Derby Hats Millinery Custom made hats Fascinatorsand headpieces for Women. Men s hats Ready to Wear Hats
Local Salon Visits By Appointment Only -- Internet SALON Visits 24/7 **On-Line showrooms on this site: ALWAYS OPEN **
Fascinators, Hats, Headpieces Cocktail Hats and Hair Ornaments
Made to Order

VOTED Best Hats in Metro Detroit ~ 2011, 2012, 2013, 2014 and 2015!
Voted 2012 Best Women's Accessories DETROIT'S A-LIST



Voted Best Hats
in Metro Detroit
WDIV Vote 4 the BEST

Winner: BEST HATS Award
2011, 2012, 2013, 2014, 2015

Fascinator & Hair Ornaments Collection (details: click photo)


HAVE FUN THIS SUMMER but remember to protect your noggin'

Don't forget your sunscreen and
for goodness sake ---
WEAR A HAT!


Stylish, light-weight and
a good friend ! !


Joy Lynn in Knotted Sisal Straw


Fascinators, Hats, Headpieces Cocktail Hats and Hair Ornaments
Made to Order


2016 HORSE RACING SEASON


March 26 - Dubai World Cup
April 2 - Carolina Cup (SC)
May 7 - Kentucky Derby (KY)
May 14 - Iroquois Steeplechase (TN)
May 21 - Preakness (MD)
June 9-11- Belmont Stakes (NY)
June 5 - Prix du Jockey Club (France)
June 14 - 18 - Royal Ascot (UK)
June 24 - 26 - Irish Derby (Ireland)
July 15 - Del Mar Opening Day (CA)
July 25 - July 31 - Galway Races (Ireland)
Nov 1- Melbourne Cup (AU)


WEDDING Plans?
No two brides are alike

We'll make sure YOUR CUSTOM headpiece
or hat is as unique as
YOU

If you experience ANY difficulty reaching us via this site, or by email, please CALL US DIRECT
(The Internet is terrific -- But the TELEPHONE is SO MUCH FASTER!)
734-284-3417
Kentucky Derby nt Stakes, Saratoga, Del Mar, Royal Ascot, Melbourne Cspecial occasion hats, custom, bridal, funeral nators, headpieces, hair ornaments, black hats, straw,cocktail hats, ladies hats, women's women's hats, men's hats,millinery,spring summer, Easter hats, High Holidays, bar Mitzvah. bat mitzvah hats, grandmother's hats, mother of the bride hat, Detroit MI Preaknessup Dubai Race Season hats, Polo matches, Concours d' Elegance, Suite Dreams Project, Couture Millinery,Formal Hats, Central Park, Pitsburgh, Belle Isle Conservancy Hat events. ©2000-2016 Gena Conti, Inc. Wyandotte, MI (734)-284-3417
---
KY DERBY
COUNTDOWN


NOW is the time to think about your ensembles!
---
April 23rd

Passover Begins

---
May 6th




SUITE DREAMS PROJECT
15th Annual "Hats Off" Lunchoen

Hats required
---
May 7th

KENTUCKY DERBY


---
May 8th
MOTHER'S DAY

She'll remember if You Forget!
GIFT CERTIFICATES ALWAYS available
always Perfect!
---
MAY 21st
The 141st running of the $1,000,000
Preakness Stakes
at Pimlico Race Course
Preakness at Pimlico Race Course
---