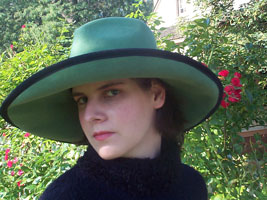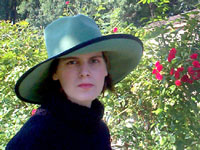 SIZES: 22 - 23
Don't know your size? MEASURE YOUR HEAD

COLORS: Brown, Black, Red, Camel, Bordeaux
pastels too (add $35)
Custom colors available in the custom salon - Call with inquiries.

Made from double velour felt—trimmed with black grosgrain ribbon band. Finished with large matching grosgrain bow at the side (or not ... You decide). Dramatic, large 4" brim profile has a fine wire sewn on the inside edge to ensure the shape while keeping you glamorous and protected.

ANNIE ... Annie Oakley ... that's what I thought (even though you look nothing like her and I've got my history lessons all mixed up ...) I thought of Jesse James, Wyatt Earp and the OK Corral. I thought of Buffalo Bill Cody, Sitting Bull and Annie O. It wasn't easy for a woman to make her mark back there and then. It's not always easy in the here and now... Set your sights and stand steady. There's a new girl in town — You ... an Oh! So 'little sure shot' in your ANNIE.
Maybe you'd like vintage ribbons, silk flowers and trim ...
maybe you'd like something different instead of the bow...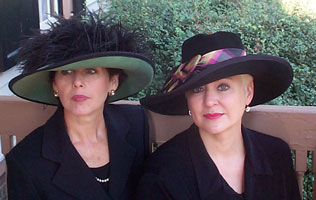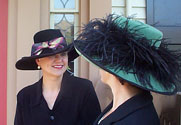 "What if?" is music to our ears. Many possibilities are yours
in the CUSTOM SALON. Call us 734-284-3417.

PLACE YOUR ORDER ———————— Measure your head