SIZES: 20 ½, 21, 22, 22 ½, 23, 23 ½, 24, 24 ½
Don't know your size? MEASURE YOUR HEAD

COLORS: Velour felt: Black, Brown, Red, Charcoal Grey, Khaki Green, Forest Green, Bordeaux, Camel
Suede finish felt (Add $30):COLORS: Black, Alabaster, Midnite Navy, Sable Brown, Grey, Gunmetal and Purple
Pastels (Velour) available (add $40)
Beaver Felt: (Add $50): Black, Brown
or Leopard /print Beaver Felt (Add $60)
Made from velour felt (suede finish or beaver felt - additional charges apply). Trimmed with grosgrain band & matching bow at the side. You may have a leather sweatband inside (just like the mens) ...Add $20. Add a rayon/acetate lining (Add $20.) Would you like to include a hand embroidered monogram ? We can do that too (Add $10)
Don't tell me you never wanted to wear your daddy's (or grandpa's) hat ... Don't tell me you never thought those 1940's movie gangsters, tycoons, gigolos, secret agents and talent scouts were sexy in their overcoats and cocked fedoras ...
FEMME FEDORA, alluringly feminine, dripping with classic seductive style. Wearing this hat will even win you compliments while running errands. Be gracious. Say, "Thank you." You're not afraid of compliments, are you?

You can surprise him with a gift of a FEDORA too. See MENS hats. (children's sizes also available — CALL us 734-284-3417!)
The family that wears hats together ... gets noticed!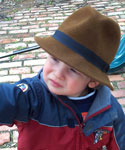 Maybe you should buy him one too...