SIZES: 20½, 21, 22, 22½, 23, 23½, 24, 24½
Don't know your size? MEASURE YOUR HEAD

COLORS: Suede finish felt: Black, Alabaster, Midnite Navy, Sable Brown, Grey, Gunmetal and Purple.

COLORS:Velour felt (less $30) Black, Brown, Red, Charcoal Grey, Khaki Green, Forest Green, Bordeaux, Camel
special order: Vienna Gold as pictured above (additional charges apply)
And YES ... You can have Beaver felt too (Add $45) Black or Brown or Leopard print if you like (Add $55)
Made from suede finish fur felt, trimmed with grosgrain band & matching bow at the side. Finished inside with a cotton grosgrain sweatband (as 80% of my clients prefer) or leather sweatband, (add $20.00).

Want the crown lined wirh rayon/acetate liner (add $20). Would you like your your initials hand embroidered inside? Easily done -- Just add $10

We look forward to spoiling you in the CUSTOM SALON
or just CALL US 734-284-3417.

Watch how she watches you when you put on your hat. Watch how important she feels watching the other girls watch you ... hmmm, that's right — he's with me. Handsome, confident, debonair. You probably already know all that ... Of course. That's why you're HERE, picking out your new FEDORA.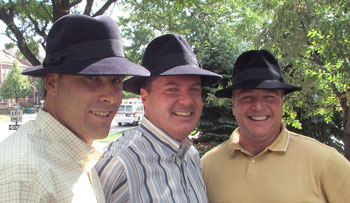 Brian, Bob & Steve look GREAT in their custom fedoras --
Heads turn when these 3 Musketeeers appear!
Maybe you should think of buying her one too ...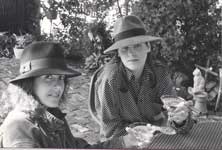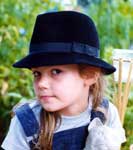 See our WOMEN FALL & WINTER COLLECTON

Or him ...
.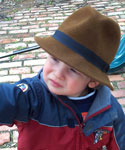 Custom Fedorables for kids