SIZES: 20 ½, 21, 22, 22 ½, 23, 23 ½, 24, 24 ½
Don't know your size? MEASURE YOUR HEAD

COLORS: Velour felt : Black, Brown, Red, Charcoal Grey, Khaki Green, Forest Green, Bordeaux, Camel
COLORS: Bands: Black, Brown, Mocha, Grey

Don't tell me you never wore your dad's (or grandpa's) fedora. Don't tell me you never thought those 1940's movie gangsters, tycoons, gigolos, secret agents, talent scouts, newspaper men (... any man who was a man) weren't sexy in their overcoats, bomber jackets and cocked fedoras. Don't tell me the girls didn't think (know) so too ... Be still my heart.
Timeless, really. Style is timeless. Style is what you've got when you wear your FEDORA.

Watch how she watches you when you put on your hat. Watch how important she feels watching the other girls watch you ... hmmm, that's right — he's with me. Handsome, confident, debonair. You probably already know all that ... Of course. That's why you're HERE, picking out your new FEDORA.

And YES ... You can have Beaver felt too (Add $65) Black or Brown or Leopard print if you like (Add $85)
Trimmed with grosgrain band & matching bow at the side. Finished inside with grosgrain sweatband Add a rayon/acetate lining (add $30). Would you like your your initials hand embroidered inside? ADD $25. Available through the
CUSTOM SALON or just CALL US 734-284-3417.

Maybe you should think about buying her one too ...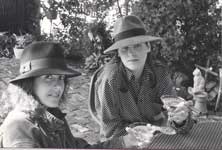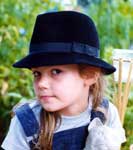 See our WOMENS FALL & WINTER COLLECTON.
We'd love to spoil you in the CUSTOM SALON.