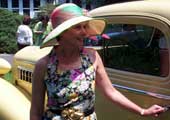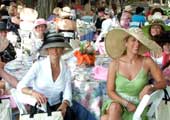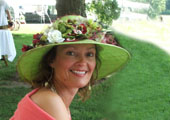 FOR IMMEDIATE RELEASE
MARX LAYNE & CO.
Troy, Michigan, June 22, 2005
HATS OFF TO THE MEADOW BROOK CONCOURS D'ELEGANCE
L' AFFAIRE DU CHAPEAU FASHION SHOW!
Annual event showcases designs of Elie Tahari and a special tribute to hats
Troy, Mich., June 22, 2005 — The perfect accessory to a sleek classic car? A chic outfit and a hat to match! Meadow Brook Concours d'Elegance will bring this concept to life at its "L'Affaire du Chapeau" (The Hat Affair) fashion show on Friday, August 5, 2005, on the lawn of Meadow Brook Hall.
"The annual fashion show is one more great event during our weeklong celebration of classic cars," said Lolly Bezy, executive director of Meadow Brook Concours d'Elegance. "Our committee works with Saks Fifth Avenue to showcase stunning designs that perfectly complement the classic cars we display at Meadow Brook Concours d'Elegance."
This year's festivities will start at 11:00 a.m. with a champagne reception on the sprawling lawn of Meadow Brook Hall, followed by a tented New York style runway fashion show at noon and a garden luncheon immediately following the show.
This year's champagne reception will feature "L'Art du Chapeau," or The Art of the Hat, a special tribute to one of fashion's most important accessories. A highlight of this year's event will be a silent auction of extraordinary hat-related works of art created by select automotive designers and local artists. In addition, the sought after fashions of renowned milliner Gena Conti will be displayed and available for purchase. Conti imports materials from around the world to incorporate into her original designs, and her millinery has been featured at Detroit Gallery of Contemporary Crafts, the Jill Spanbauer Galleries and the Kentucky Derby Museum.
"L'Affaire du Chapeau will prove to be one of the best Meadow Brook Concours fashion events to date," said event co-chair Sue Eller. "The incredible designs of Elie Tahari, paired with the exceptional millinery of Gena Conti and a fun focus on hats make this year's event a truly special one."
In anticipation of L'Affaire du Chapeau, an invitation-only afternoon tea is being held on June 25th. La Fête du Thé, la Femme aux Chapeaux, or Tea Party with the Lady with Hats, will take place at the residence of co-chair Feather Buchanan. Gena Conti will be in attendance and her millinery on display during the event.
The Meadow Brook Concours fashion show will be held Friday, August 5, from 11 a.m. to 2 p.m. at Meadow Brook Hall. The event is open to the public with pre-purchased tickets; ticket prices are $125 for General admission, $175 for Patron admission, or $200 for Benefactor admission, which includes premier seating on the runway. Reservations must be made before July 15 by calling (248) 269-7672.