Kentucky Derby Museum chooses Gena Conti Millinery for the Prestigious 2013-14 Hat Exhibit

11 Jun 2013
Dear Ms. Conti,
"I am pleased to congratulate you for having your hat selected for display in our 2013 hat exhibit..."
Chris Goodlett
Curator of Collections, Kentucky Derby Museum
"... We're delighted to be chosen once again this year … our 11th consecutive year entering the competition... !" --- Gena Conti.

Moulin Rouge Deux will be back in the Salon July 2014, following her 1 year showing engagement at the Kentucky Derby Museum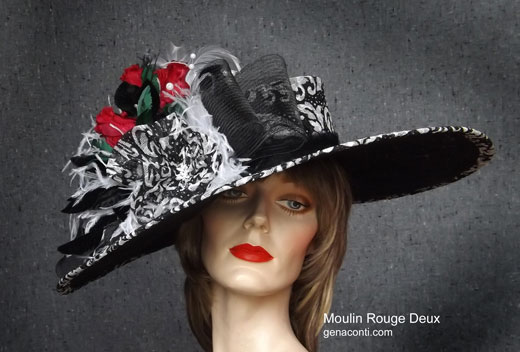 MOULIN ROUGE DEUX Kentucky Derby Museum 2013-14 Hat Exhibit Contest Winner
Eye catching 7" brim is made from light weight, black sinamay, overlaid with black and white patterned tulle fabric. Trimmed with a large black horsehair (not to worry --- it's synthetic) double bow, black and white ostrich feathers, coque feathers and pearl spray, deep red feather rose buds, black velvet leaves, black tulle band, and matching tulle fabric rosette.
Yes... she's a lot of hat, but only 7 oz.
Size 23 – 23.5"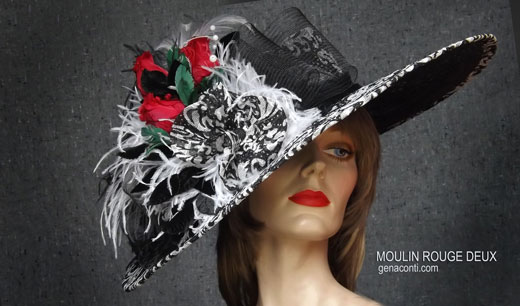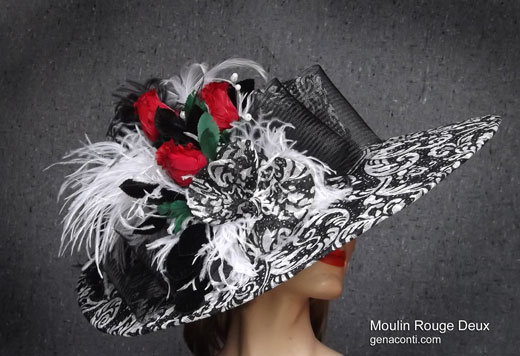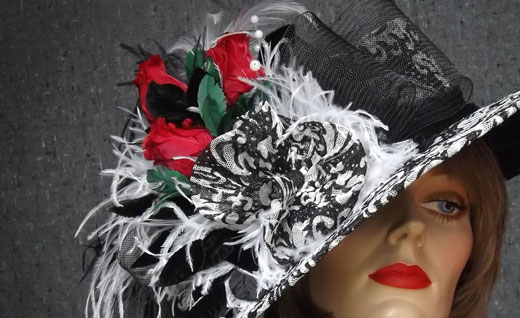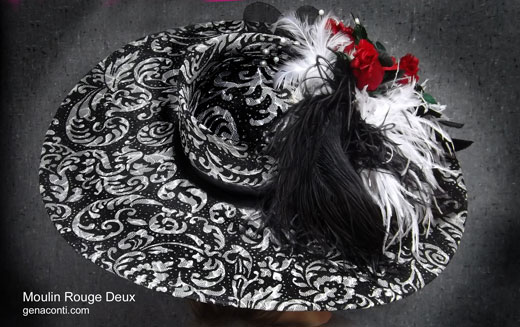 The Kentucky Derby Museum chooses Gena Conti Millinery for prestigious 13th Annual (2013-2014) Derby Hat Exhibit
The Kentucky Derby Museum Annual Hat Exhibit highlights one of the Derby's most glamorous traditions, the exquisite hats worn on race day. Hat entries of all types from designers around the world, including either men or ladies styles, are submitted for competition each May.
This year, the Museum's distinguished judges, once again, selected the "best 20 - 30 hats that most represented the spirit of the Kentucky Derby." The winning hats are now on display in the exhibit "Derby Hats" that runs through the end of June 2014. The museum receives over 200,000 visitors annually.

The Kentucky Derby is one of the USA's millinery highlights of the year. With the record-breaking increase of both worldwide hat sales and the growth of working milliners, the competition gets tougher and tougher every year!

"We were tremendously busy the entire spring season with custom clients' orders for traditional Hat Events including Parks and Conservancy luncheons, Mothers Day, Weddings, and Race Season.… In the final days approaching the Derby, we were working nearly 'round the clock!
Nothing else matters but creating THE hat when it's a Run for the Roses…. A Run for the FINISH LINE -
Being notified of our MOULIN ROUGE DEUX chapeau, winning a place in the exhibit was, again, exceptionally thrilling!"
The Kentucky Derby Museum is located at Gate 1 of Churchill Downs. For more Museum information call (502) 637-1111 or visit the museum on line at derbymuseum.org