Kentucky Derby Museum chooses Gena Conti Millinery for the 2005 prestigious Hat Exhibit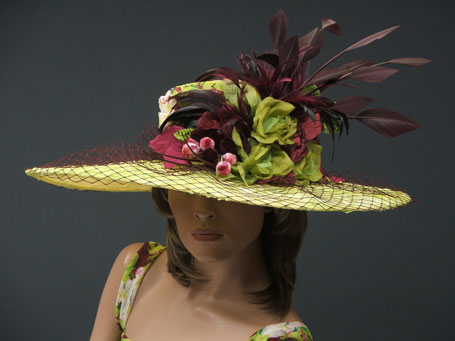 "Limeade" is a one-of-a-kind chapeau
this hat has just returned from the Museum and is currently available in the Salon
Size 22" - 22 1/2"

This Kentucky Derby Day chapeau was made from primrose sinamay straw. Her crown is topped with lime, burgundy and white crushed chiffon floral print fabric with matching band wrap. "Limeade's" dramatic oversized 7" brim is also made from 4 layers of primrose yellow sinamay, draped with lime embroidered tulle and vintage burgundy, wide weave Russian veiling.
Luscious trim includes: Silk and velvet flowers, burgundy coque,and hand cut and painted turkey feathers and quills.

"Limeade's" her own cool Kentucky breeze and real style thirst quencher, gracefully sauntering about Churchill Downs ........
The Kentucky Derby Museum chooses Gena Conti Millinery for prestigious 2006-2007 Derby Hat Exhibit
We're delighted to have won entry for the 4th year running in the Museum's hat exhibit competition!

Are YOU attending the Kentucky Derby, the Preakness or Royal Ascot next year?
Give us a call. We'll create something extraordinary for you!
REMEMBER ---------- The longer you wait ------- The higher the stakes!
If the Races aren't in your plans, remember ...you don't have to go to the Races to wear a fabulous custom hat by Gena Conti. Parks and Conservancy Luncheons, Belle Isle Women's Committee Hat Luncheon, Suite Dreams Project's Hats Off Luncheon ...Just call the Salon. We're happy to create a custom chapeaux as Individual and special as you!