Over sized Cloche-like design, our FLORENCE is made of parisisal straw in Perfect Pink.
Adorned with sultry, black Russian veiling, horsehair band (synthetic, of course) burnt peacock herl feathers and extra large silk and velvet opend rose in complementing PINK!
Oh! My… Pink is you. Glowing--- pink cheeks blushing under this ultra feminine hat.
Florence's styling is a perfect complement to many ensembles for Spring and Summer.
Wear her with cream, white, tan, coco, greens, navy and classic black…
Wear her often!
Great for the RACES, Oaks Day at Churchill Downs, Garden party, wedding or just because...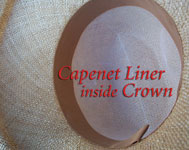 Want something custom?? Visit our CUSTOM SALON.


Please measure your head size carefully. All Sales in the SALON are final and must be paid in full at time of order.
Ordering Questions? Or just call us direct.