Over sized Cloche-like design, our FLORENCE is made of parisisal straw in Perfect Paris Blue.
That's what WE thought when we finally let go of a piece of our coveted, vintage, Dior Blue, Parisian taffeta ribbon, to adorn her!
Oh! My… Blue is you. Glowing, deep peacock feather blues adorning this one-of-a-kind trimmed hat.
Florence's styling is a perfect complement to many ensembles for Spring and Summer.
Wear her with yellow, white, tan, coco, greens and orange…
Wear her often!
Great for the RACES, Garden party, wedding or just because...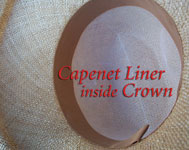 Want something custom?? Visit our CUSTOM SALON.


Please measure your head size carefully. All Sales in the SALON are final and must be paid in full at time of order.
Ordering Questions? Or just call us direct.