Kentucky Derby Museum chooses Gena Conti Millinery for the 2011-12 prestigious Hat Exhibit

Wed, 15 June
"Gena,
The judges have made their selections, and I wanted to let you know that your hat has been selected for display in our 2011 hat exhibit. It was also named "Most Representative of Derby......"
Chris Goodlett
Curator of Collections, Kentucky Derby Museum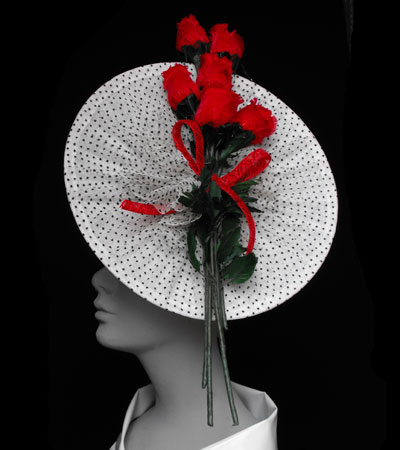 DERBY SPECTATOR ROSES
Currently on a 1 year loan to The Kentucky Derby Museum Hat Exhibit - Louisville, KY

This one-of-a kind, custom Kentucky Derby hat is hand sewn from 4 layers
of white sinamay straw; hand blocked (molded) in a disk-like shape.
The sinamay is overlaid with tiny black and white "dotted Swiss" tulle fabric. The hat's base is fashioned from the same materials and secured on the head with glossy black headband (and elastic band for added comfort & security --- just in case one's had one too many mint juleps..........)

The asymmetrical hat "disk" cradles a lovely bunch of long stemmed, winner's circle, red feather rose buds--- a sure bet at Churchill Downs!

(Large photos available for Press : For Inquiries, contact our office 734-284-3417)

A more formal letter of congratulations will be coming your way soon. Please let me know if you have any questions.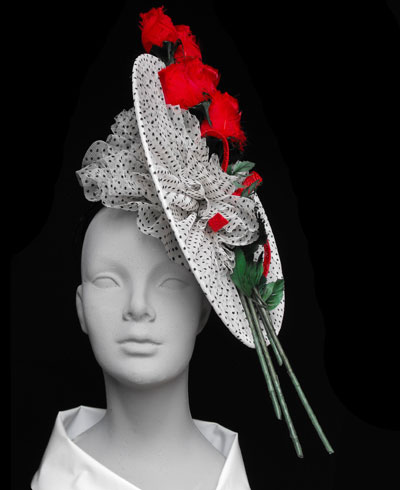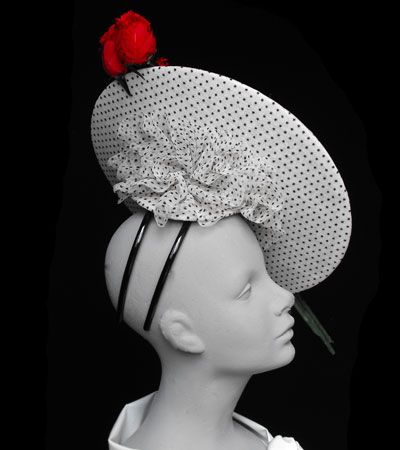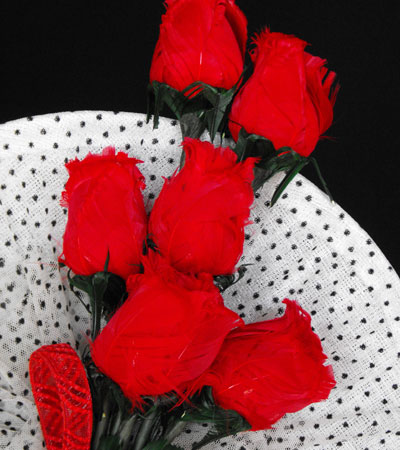 The Kentucky Derby Museum chooses Gena Conti Millinery for prestigious 11th annual
(2011-2012) Derby Hat Exhibit
The Kentucky Derby Museum Annual Hat Exhibit highlights one of the Derby's most glamorous traditions, the exquisite hats worn on race day. Hat entries of all types from designers around the world, including either men or ladies styles, are submitted for competition each May.
This year, the Museum's distinguished judges, once again, selected the "best 20 - 30 hats that most represented the spirit of the Kentucky Derby." The winning hats are now on display in the exhibit "Derby Hats" that runs through the end of June 2012. The museum receives over 200,000 visitors annually.
"... We're delighted to be chosen once again this year … our 9th consecutive year entering the competition," reports Gena Conti. We are further pleased to announce "DERBY SPECTATOR ROSES" has also been awarded the judges' "MOST REPRESENTATIVE OF THE KENTUCKY DERBY!"

The Kentucky Derby is one of the USA's millinery highlights of the year. With the record-breaking increase of both worldwide hat sales and the growth of working milliners, the competition gets tougher and tougher every year!

"We were tremendously busy the entire spring season with custom clients' orders for traditional Hat Events including Parks and Conservancy luncheons, This year's ROYAL WEDDING celebrations,(Thank you, Kate!) The Belle Isle Women's Committee Hat Luncheon (here in Detroit) and Race Season in general (Dubai, Ascot, Preakness, DelMar, Belmont Stakes) where fabulous hat wearing is simply a must… In the final days approaching the Derby, we were working nearly 'round the clock.!
Nothing else matters but creating THE hat when it's a Run for the Roses…. A Run for the FINISH LINE -
Being notified this week of our winning place in the exhibit and awarded Most Representative of the Derby was, even after 9 years, exceptionally thrilling!"
The Kentucky Derby Museum is located at Gate 1 of Churchill Downs. For more Museum information call (502) 637-1111 or visit the museum on line at derbymuseum.org