reprinted with permission from chictoday
So Many Hats, Only One Head…
Posted on September 2nd, 2008 by Brina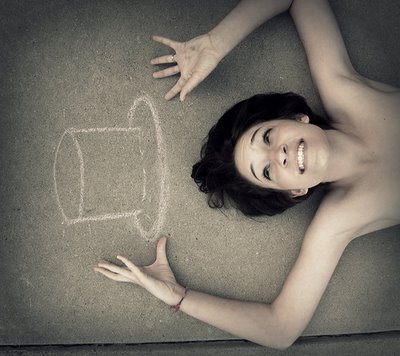 Spending a pleasant Saturday drinking detox tea and reading the super Susie Bubble, I was prompted by a post entitled 'I'm not looking at the hats' to write about why I am always looking at the hats. And wearing them.
We may have had no summer to speak of in this town. However, not only since February, when the catwalk was adorned with headgear of every kind, but from when I was old enough to reach a hatstand on my tiptoes, I have been slowly stocking up and wishing for the leaves to drop so that it's that hat time again…
'If a woman rebels against wearing high-heeled shoes, she should take care to do so in a very smart hat'. George Bernard Shaw
Whilst I appreciate that even a simply designed hat can seem to demand an elusively particular tilt, tone and attitude; wearing the right hat well can work wonders. As Mr Lagerfeld showed this season, as chic as an ensemble may be (and nobody ensembles as chicly as Chanel), nothing can beat a beautifully bejewelled beret to add that special something.
If you do wear a hat (and this winter you really should – at least whilst Marc Jacobs is still stocking those enticing tri-corner pieces), it can be the first thing that is noticed about you. Apparently it takes someone just three seconds to evaluate you based on your body language, mannerisms and most importantly, your appearance. So how do you choose a hat that you really like and that tells people you require far more than three seconds of their opinion-making time to really get across your complex, yet fascinating, personality?
Ian Bennett is a UK milliner- one of my most favourite - who creates wonderful and wearable designs from his shop in London's Oxo Tower. He insists that there is no special method to finding a hat that fits your head and your heart. It all comes down to persistence;
"People will go to a store and not think twice about trying on twenty jackets or ten pairs of jeans to find the best style and fit. Yet when it comes to hats, most people say 'Ooh, they don't suit me'. They try just one on and say 'See?'. But hats can and do suit everybody, it's just about allocating the same time and effort in the search for the right hat as you do for the rest of your wardrobe".
It is worth investing the time, as a hat can be confidence-inspiring, attention grabbing and be the difference between being dressed or being dressed up. A great hat can make a good day great. It's an object of interest, which encourages people to talk to you (which I always find extremely entertaining - the weirder the better, unless I'm in a particularly murderous mood), kind of like the way pushing a baby around will always invite random conversations. But hats are far more preferable bundles of joy. They are indispensable in their magical ability to hide as much as they can show. A woman wearing Galliano's flower-basket creation or McQueen's Isabella Blow-inspired butterfly fascinator, for example, is extremely unlikely to be an uninteresting wallflower. Or be getting the night-bus home. And a woman with a wide-brimmed slouch hat will be able to flirt far more effectively, by hiding what she wishes at her whim.
One of the earliest known hats is a simple skull-cap which was given to freed slaves in Greece and Rome. It symbolised their new status, and became known as the 'liberty cap'. I dreamily like to think that this is what the designers had in mind when they revealed their humble, humourous or haute-couture hat designs this season. Gareth Pugh, for instance, presented some never-wearable warrior helmets at his A/W show, but they were wonderful in providing the freedom to bring his fantasy world to life. Vivienne Westwood used turbans and eye-covering boleros as much as she employed protesting t-shirts and political placards to get her message across the catwalk. Donna Karan delivered practical Panamas and Hermes did cosy, boyish beanies. With each of these hats you can be who you want to be. As a wise woman once said 'I have 12 hats, and each one represents a different personality. Why be just yourself?' Exactly. It's an excuse for stylish schizophrenia. I'll take my hat off (for a second) to that.