OCTOBER 11, 2017
14th Annual
"Polish the Jewel" Luncheon
Sarah Earley, Event Chair
Detroit's natural Jewel – Belle Isle Detroit, MI
~ ~ ~
LOCATION:
Detroit Yacht Club
One RIverbank Drive
Belle Isle
Detroit, MI 48027
Complimentary Valet Parking
Silent Auction
Funds raised at this year's event will benefit the fundraising goal of about $3 million for the future splash play area and revitalized beach area for the public to enjoy!
You are encouraged to wear your finest chapeau, cocktail hat, headpiece or fascinator to the luncheon event!
Belle Isle Events Info here

~ ~ ~
11:00 a.m. to 1:30 p.m. -- Lunch Served at 12:15 p.m.
Patron Tickets start at $150 per person
To receive more information about becoming a Benefactor or to reserve
tickets, please call 313-331-7760

~ ~ ~
Need a new chapeau for the October 11th event?
Don't Wait! Call Gena Now!
10% from all hats sold
(via our web site or Salon) for the
10/11/18 Polish the Jewel Luncheon
will be donated to the Belle Isle Conservancy
(not to be combined with any other offer, promotion, certificate or discount)


Benefactor* tickets ($300, $500, or $1,000)
Patron tickets ($150) are on sale now

This annual luncheon – historically attracts more than 400 of the region's most prominent women, wearing their favorite shoes, jewels and chapeaux, for an afternoon of networking and support of our island gem.



The mission of the Belle Isle Conservancy is to protect, preserve, restore and enhance the natural environment, historic structures and unique character of Belle Isle as a public park for the enjoyment of all – now and forever..
~ ~ ~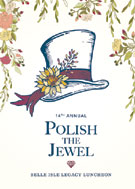 Pre Luncheon
BENEFACTOR PARTY
and Gena Conti Millinery TRUNK SHOWING
THURSDAY, September 20, 2018
5:30 - 7:00 PM
C.A.N. Art Handworks, Inc
2264 Wilkins St,
Detroit, MI 48207

20% of all Gena Conti Millinery Trunk Show Benefactor Party Hat Sales
will be donated to the Belle Isle Conservancy
(not to be combined with any other offer, promotion, certificate or discount)
For more information on becoming a Benefactor: call 313-331-7760 or visit
Belle Isle Conservancy belleisleconservancy