Kentucky Derby Museum chooses Gena Conti Millinery for the 2007-08 prestigious Hat Exhibit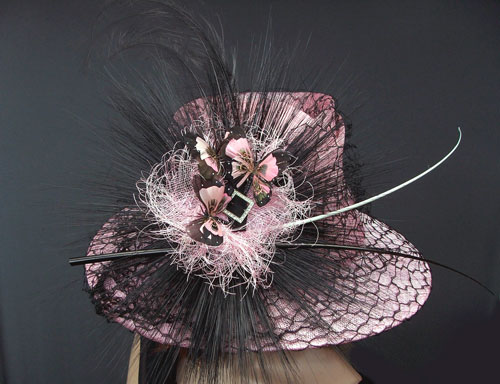 Audrey has been SOLD - She just loves her new home in the Carolinas.....

"AUDREY"
Just returned from a 1 year loan to The Kentucky Derby Museum Hat Exhibit - Louisville, KY
This is a one of a kind chapeau. This "Audrey" hat is made from 4 layers of light pink sinamay straw. The crown is also wrapped in matching hand-sculpted sinamay. The entire hat is draped with vintage couture black veiling.
Adorned with burnt, dyed peacock flue feathers, rhea tail feathers, rhinestone pin, sculpted, frayed sinamay, pink and black butterflies and ostrich feather spines.
"SEVEN YEAR STITCH"
The Kentucky Derby Museum chooses Gena Conti Millinery for prestigious 7th annual (2007-2008) Derby Hat Exhibit
The Kentucky Derby Museum Annual Hat Exhibit highlights one of the Derby's most glamorous traditions, the exquisite hats worn on race day. Hat entries of all types from designers around the world, including either men or ladies styles, are submitted for competition each May.
This year, the Museum's distinguished panel of judges, once again, selected the "best 20 - 30 hats that most represented the spirit of the Kentucky Derby." Each year the winning hats are displayed in the exhibit "Derby Hats" that runs through the end of June of the following year. The museum receives over 200,000 visitors annually.
"... "We were tremendously busy the entire spring season with custom clients' orders for traditional Hat Events including Parks and Conservancy luncheons, The Belle Isle Women's Committee Hat Luncheon (here in Detroit) and Race Season in general (Ascot, Preakness, Belmont Stakes) where fabulous hat wearing is simply a must… In the final days approaching the Derby, we were shipping many hats, overnight to clients in their Louisville Hotels!"
Nothing else matters but creating THE HAT when it's a Run for the Roses….
The Kentucky Derby Museum is located at Gate 1 of Churchill Downs. For more Museum information call (502) 637-1111 or visit the museum on line at derbymuseum.org
Are YOU attending the Kentucky Derby, the Preakness or Royal Ascot next year?
Give us a call. We'll create something extraordinary for you!
REMEMBER ---------- The longer you wait ------- The higher the stakes!
If the Races aren't in your plans, remember ...you don't have to go to the Races to wear a fabulous custom hat by Gena Conti. Parks and Conservancy Luncheons, Belle Isle Women's Committee Hat Luncheon, Suite Dreams Project's Hats Off Luncheon ...Just call the Salon. We're happy to create a custom chapeaux as Individual and special as you!