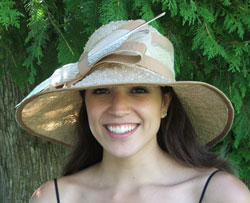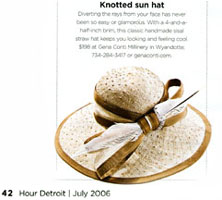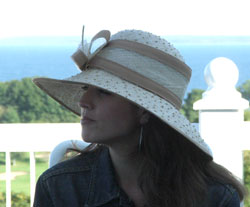 SIZES: 22, 22 ½, 23, 23 ½, 24
Don't know your size? MEASURE YOUR HEAD

COLORS: Natural
Made from natural knotted sisal straw — the crown: lined with capenet for stability. You won't find that extra step, care and commitment to quality in a lightweight straw hat in many department stores (or many hand made hats, for that matter). Our playful summer FRANCES is a classic, trimmed with camel or black edged matching Natural Sinamay hat band (feather additional).
Alluring, romantic, lingering (the looks from him, from them ...). Oh you'll be memorable (not that you're not already) in your FRANCES chapeau. BE PREPARED! The dramatic 4½" brim will only shade you from the sun ... not the compliments.
Also Available in a wash of watercolor patterned chiffon.

OR customize your Frances in our CUSTOM SALON
Dreams really can come true. Help us spoil you. Just THINK INSIDE THE BOX -- hat box, of course.
You deserve it. CALL us today 734-284-3417.